Curled Tail
© Punkin Dunkin Productions
TG is a lumpy, plumpy, lazy cat. He doesn't like to race around the apartment like Daniel. He's unable to climb up to the top of the bookcase and watch over us pitiful humans down below. He prefers eating and sleeping (preferably at the same time) to any other activites. He's just a big ol' lounge cat.
Even so, I am finding it increasingly hard to get a good candid shot of him. He only sits still when my camera is
not
pointed his way. The minute my camera is turned on, he's hyperactive and pissy towards me.
When and if he does stop long enough to let me get a clear shot of him, like when he's tired of being chased around, he'll plop down and just stare at me with this look that says "You, my dear, will never, ever understand my complex cat mind." Although sometimes he looks as if he's trying to figure out how to off me. Will it be by tripping? Clawing and scratching? How about leaving the cupboard doors open for me to trip over?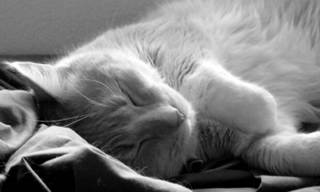 *Sigh* Even still, he's just too cute to get rid of. He's damn lucky that he's so soft and adorable.